Hello All WGC supporters,
Firstly, I would like to thank all of you who helped the IFGA to support the 4th Annual World Guppy Contest that was recently held in the beautiful, but crazy, city of Rio de Janiero, Brazil. Frank Chang and I personally attended the show and hand carried approximately 74+ IFGA entries to the show.
Most of the USA guppies settled down well after the gruelling 7,000 mile journey, flying at 33000 feet over the Amazon jungle, from Los Angeles. Of course we had the usual problems with airline counter assistants who didnt think we could ship fish, but after checking their manuals they properly labeled our containers and let us on our way. Of course we were fully armed with all the necessary shipping documents and information for the anticipated customs encounter in Brazil. When they saw we were carrying lots of fish they had us check in with the Brazilian IBAMA Official at the airport, who proceeded to keep us waiting for almost a full hour while he made phone calls. Eventually a senior IBAMA inspector came over and asked us to open one of our boxes, which we gladly did. They were amazed by our quality guppies and then never bothered to look through anything else. Soon we were on our way.
Rodrigo and Carlos were at the airport for several hours waiting for us, and it was a great first meeting after almost chatting for 1 year on the internet.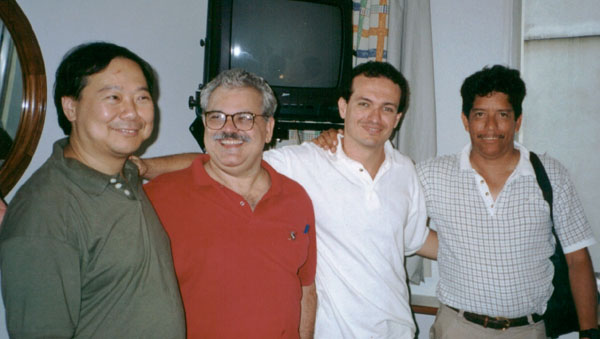 We felt quite at home with these guys who really went out of their way to make us comfortable. Frank couldn't understand a word of Portuguese, so with my help along with Rodrigo's and Carlos's fluency in English we did quite ok.
After stopping at the Hotel to check in and freshen up we were off to the show site about 15 kilometers away, on the other side of town.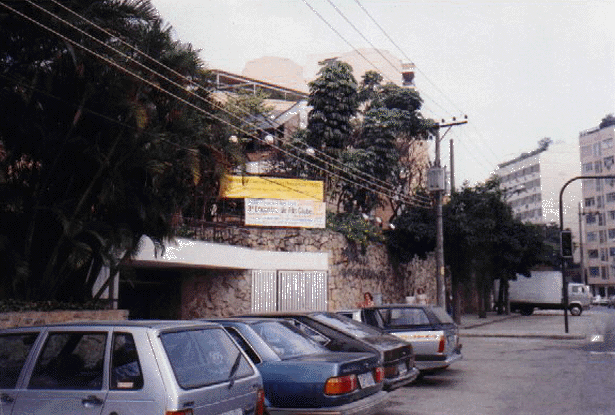 We got to get a good view of Rio upon each and every trip to and from the site. Most of our travels were by Taxi--which was an experience in itself.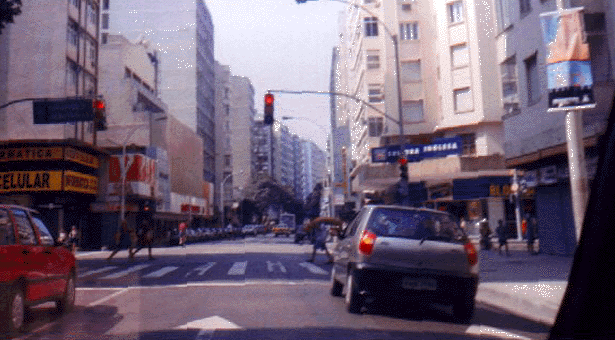 The weather felt like our summertime fishrooms (naturally its Brazil) and we immediately proceeded to change into our casual clothes.
At the show site we met Oemer Gulmez from Germany and Hide from japan as well as Alfons Jestrabek and his wife and Dr Loch and his wife from Germany. As with any IFGA show when you are present we proceeded to bench the IFGA entries. I was smart enough to bring along some Amquel in case they had some new water and this saved some entries. Most all breeders had some or most of their fish make it through the judging in good shape. Some were lost as expected but most looked as good as with any local show.
The show room was huge, with more than ample room for visitors.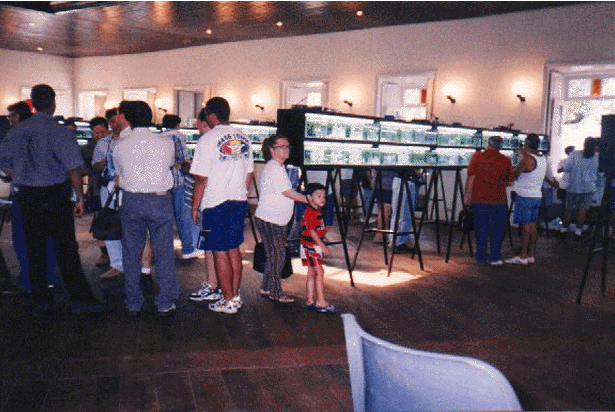 There were guppy paintings all around the room and a special set up display by both the Brazilian Aquarium Magazine and Alcon fishfood sponsors. They had two whole floors for the show, which lasted from Monday through the weekend! Frank and I participated with the point judging of each fish, which took several hours each day, for two days.
The total count was approximately 200 entries or so . There were entries from Germany, Japan, USA, and Brazil. All entries were housed in 2.5 gallon all-glass tanks, in double levels with approximately 5 long rows of tanks.


Lighting was directly overhead fluorescent over each set of tanks. Live plants were added to each tank (I think some form of anacharis).
On Friday the show room was opened to elementary school kids who had organised tours to the show with their teachers closeby. Rodrigo believes that the young kids, who are the future guppy breeders of Brazil, need to be indoctrinated early on the facination of the show guppy so they could maintain the interest in the country in the future years. Hundreds of kids attended the show to see the guppies. As with our IFGA shows, all show entries were registered and computerized on an Excel spread sheet for points entry and computation. The CCG happily provided the Computer system.
The Brazilian Breeders have a great hunger for USA Show fish and they have the will and resources to raise great fish so this show was a great opportunity to introduce the IFGA and Japanese and European Show Guppies for the first time. Of course they were amazed by the Moscow solids and the Red Albinos, as well as some of Jim Alderson's Big Guppies.
We managed to have some time to do a little running around in between visits to the show site and we got to see the world famous Copacabana and Ipanema Beaches.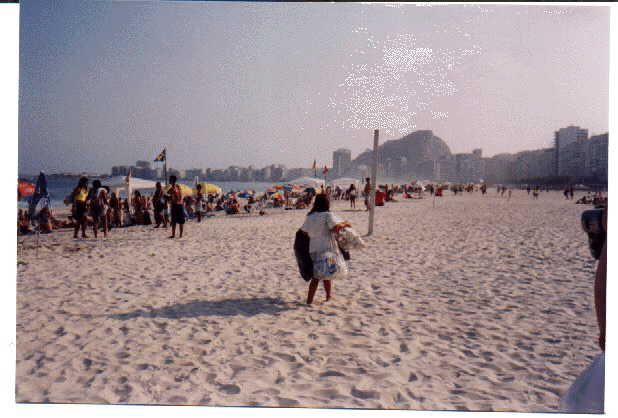 Brazilian BBQ is some of the best in the world! We ate like pigs. On Saturday we managed to go visit two the CCG clubs breeding farm and Fishrooms. This was a one hour trip out to the country side. Of course we had to stop at some friut stands and local shops to sample the native goods. I had Cashew fruit for the first time in 25 years since Trinidad! Everything was great!

We saw huge cobra guppies raised in cement ponds with drip systems and all the natural food you could want! There were daphnia, bloodwoorms and tubiflex worms living in the ponds and all the fish were large and healthy. We also saw an interesting Betta collection, and were amazed by the ingenious drip system setup to change water to hundreds of betta containers! Each container (2 liter soda bottle) had holes drilled in them to allow the water to flow in and out during the water changes. There must have been a few thousand bettas, as well as guppies, there.

I could only imagine what they would do with our show fish, (which they now have). Paulo Bentin's fishroom was also visited, and we got to see some home-made tanks and a loud, old compressor used as a blower. He was raising some of Steve Kwartler's strains as well as some commercial strains like Blue Diamond guppies from Singapore. Paulo was creating his own HBAOC Strain from three different strains and was quite successfull so far.

I was particularly amazed at the health and vigour of his guppies in the tropical heat. One of his fishrooms was not enclosed, just shaded from the sun with a roof and some fruit trees. He went on to tell me that he uses some Brazilian tropical herbs and jungle medicine to treat his guppies and has no disease problems! He gets the recipes from the brazilian books that promote the herbal medicine. So much for our expensive medications.

Well that evening we proceeded back to the show site (Brazilian Time of course) and were greeted by 100 attendees who were waiting for the seminars to begin. we has the slide show and video seminars in a separate conference room. Dr. Wolfgang Loch presented a slide show on the European guppies from some of his famous photos. Frank and I showed a video of PPGA Fishrooms and decided to have a Q&A Session which was moderated by Oemer and transalated by Rodrigo. All in all it was quite fullfilling, and i was quite amazed at the attentiveness of the brazilian audience (lots of folks took written notes).

At this time some awards were given to the judges in attendance by the CCG club as a show of gratitude for their help in pulling off a good show.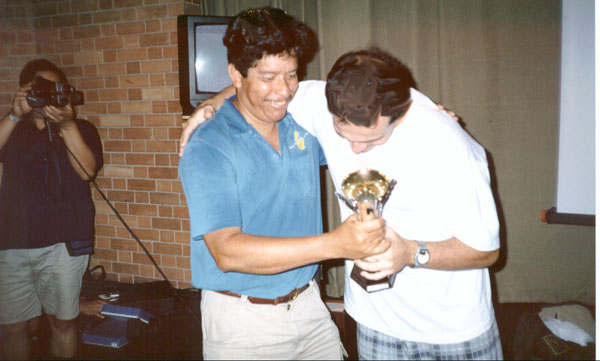 The final day was auction day and quite a few were in attendance. Although the auction didnt go off as well as planned (due to internal politics with the sponsors and the CCG) we decided this was the time to head out to see Rio before we had to leave. Several of the CCG members were along with Frank and I to show us some of their city.
We walked along the beach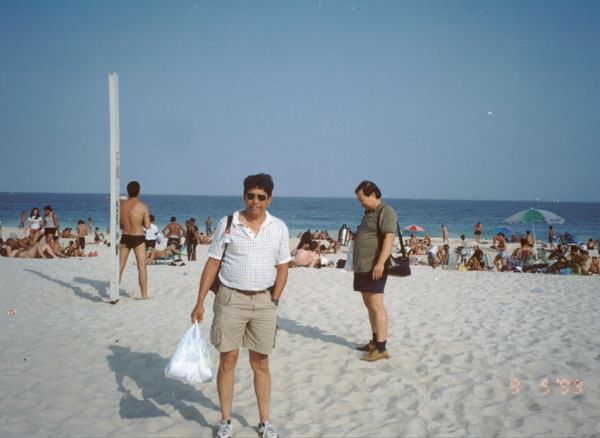 and did some light vendor shopping for trinkets and souvenirs. we also had a great BBQ Buffet lunch that was incredible! Every different kind of food imaginable was served! We must have eaten over 50 different varieties of dishes in one huge sampler lunch.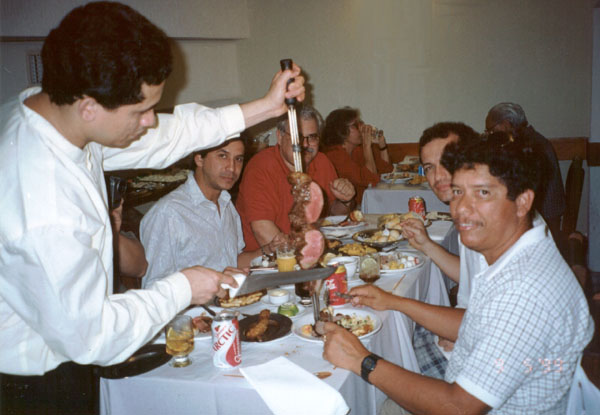 Meats were hand carved on to your plate and as fast as you can eat it you were offered more varieties! We also managed to visit the famous Rio Botanical Gardens,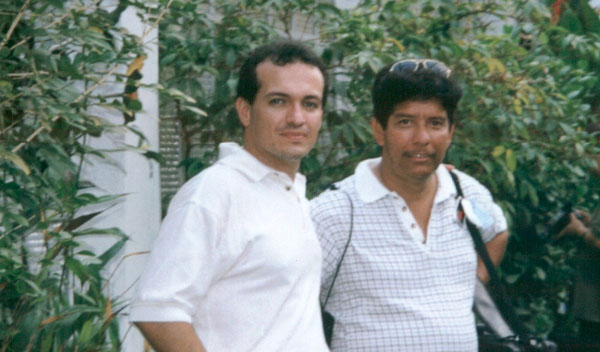 and this was a plant lover's paradise. We managed to see some miniature tamarind monkeys and flocks of wild parrots all over.
I will try to load more additional photos up on this website which depicts all I described. Frank couldnt help but catch some bettas from the ponds to bring back home. They all made it back fine. Miami Customs were very coorperative.
All said, it was a great--but too short--trip. I could have easily stayed another week! I would like to personally thank Rodrigo, Carlos, Paulo, Marcelo and Juliano (yes, Eduardo, we missed you!) for all their catering and great treatment. We really felt at home, and I didnt notice any language or communication barrier whatsoever. I guess it helps to know some Portuguese and Spanish. I hope that they can organize another Guppy Show some time in the future, so we can return.
I know they were left with some good quality strains, and already have many fry from most of them! I think we will be seeing some interesting things happening in the near future from Brazil. The show results are posted on the WGA site linked below. This site will also give you access to WGC 2000 show information in Austria. Please visit it.
WGC, Brazil 1999, Show Results
Oemer has been really busy putting it all together. Until the annual, Muito Obrigado a todo e ate amanha!
--Luke Roebuck, PPGA President