:
YOUR GUPPY GENE POOL
The true-breeding, show-quality
strains pictured below are
raised and offered for sale
by Dr. Frank Chang.
CHANG RED ALBINOS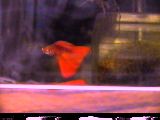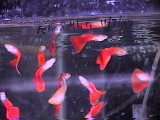 Exellent, large-bodied, sturdy fish with deep red color in the finnage and most of the body. These fish exhibit their best colors after 7 months of age. I've bred this strain for over 15 years in my fishroom and maintain OVER 30 TANKS of red albinos. This line traces its lineage back to the Reinholt Kleiss and Midge Hill reds. It is a very hardy and prolific strain. These red albinos are occasional show winners in both Breeder Male and Albino classes. Extremely fertile; the late color is more intense and more red than most red strains.

GOLD-BODIED REDS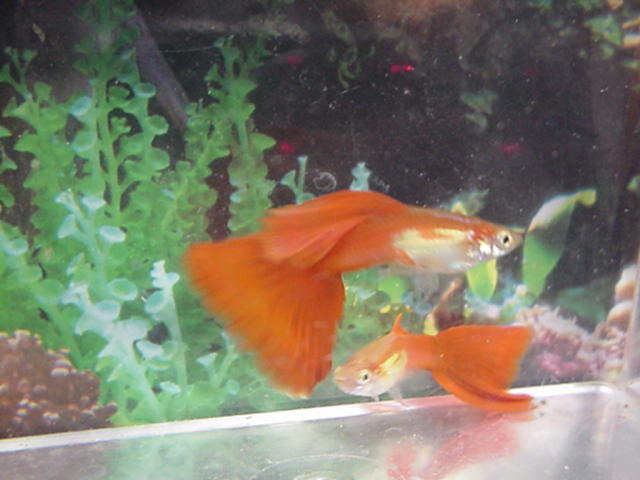 A very large body, dorsal and caudal with red color that extends through most of the body. A prolific and hardy strain which is genetically gold. This strain is the winningest line of guppies so far on the show bench. Also available is a related gray-bodied line which, also with exellent deep red color; fertile.
HALF BLACK PASTEL(CREAM FINNAGE)
German or Japanese Line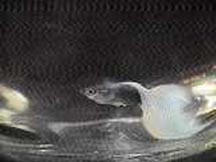 A striking strain that was developed in Germany and imported to the USA Half Black Pastels are still popular in Germany and now in Japan as well. An eye-catching strain that has a clean pastel-white dorsal and caudal with a good, dark, half black body. Body and caudal size ranges from large to very large. This strain is later maturing and long lived. An exellent strain to enjoy or show.
HALF BLACK YELLOW
Rankin Line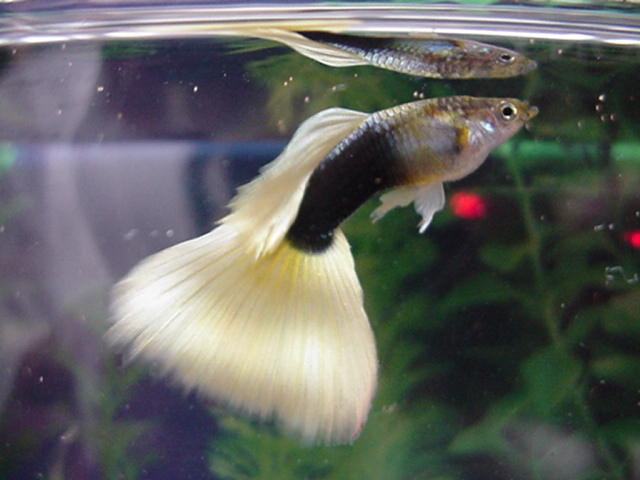 Available
HALF BLACK BLUE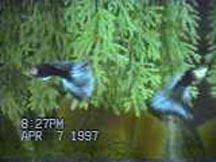 Available
PASTEL




A striking, large-bodied strain which is genetically blond. The caudal and dorsal color is a pastel white. An intriguing strain that was developed in the late 1980's by using gold bodied females from a half black pastel strain which took a number of years to perfect. Not for the beginner.
BLUE SNAKESKIN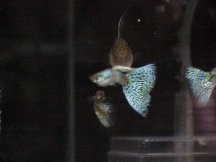 A solid blue caudal with a patterned dorsal. This large-bodied, prolific strain typically reaches show size in ten months to twelve months of age. Blue Snake Skins have done well at shows. One line produces Blue Snakeskins . The other line produces some percentage of yellow variegated snakeskins with a cobra body pattern.
HALF BLACK RED
Chang Line




Show quality strain that has good red color in the caudal and dorsal with a half black body. Females are very large with a red-patterned caudal. Half black reds were developed in the 1960's and trace their lineage to Germany. Very prolific.
AOC ALBINO
White Albino Line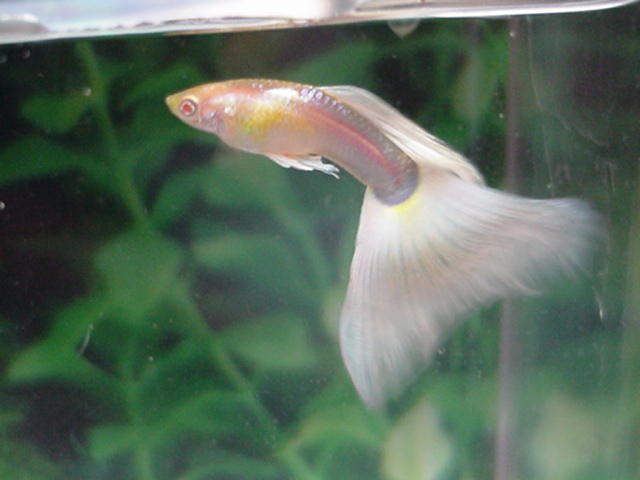 Available
PURPLES, DEEP METALLIC BLUES, GREENS
Old Sap and Green Giant/Green Apple lines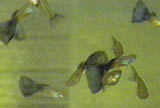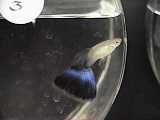 Available
JAPANESE RED GLASS (IFGA Multicolors), JAPANESE BLUE GLASS (IFGA Blue/Green Bicolors)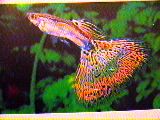 These striking fish have a red/yellow/multi dorsal and caudal, with a fine, almost lace, black spotted pattern. The body has a "Nike Logo" black pattern. The blue glass line, which can be fully interbred but is distinctly separate in pattern, has a pastel blue finnage with the same pattern of black spots. The Japanese fish sometimes produce the only true Giessen longfins in the USA. Japanese guppies sell by the pair in Japan for up to $150-$300 (US) Dollars!
JAPANESE PASTEL BLUE ALBINO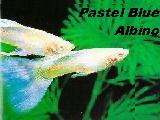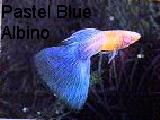 Blue Albino color ranges from a pastel-blue, to white, to pastel-yellow.
JAPANESE & GERMAN IMPORTED STRAINS
Now in the USA!


RUSSIAN RED METAL SNAKESKINS




This strain has its origins in Russia and is said to be the source of the Moscow blue guppy strain by a mutation. The males have yellow or red lace varigated pattern in 50% of the body which extends completely into the caudal and dorsal fins, with steel blue metal heads. The matching finnage and 1/2 body pattern should go well in AOC or Red Bicolor classes at the shows.
JAPANESE GALAXY & MEDUSA STRAINS
Including Albino Varieties!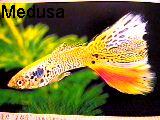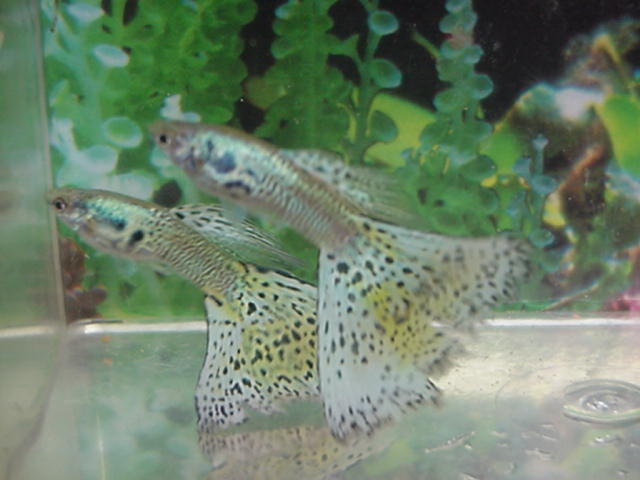 These strains originated in Japan from two separate sources using the same strains to make the cross! The different breeders named their strains differently but the similarity is remarkable. The original strains used appear to be the platinum neon and the Snakeskin or King Cobra. They are characterised by striking bicolor metallic gold and black body patterns all the way to the head! The caudal colors range from yellow and black to olive gray with yellow spots which resemble stars in the midnight sky! Very flashy and prolific.
MOSCOW GUPPIES FROM JAPAN AND GERMANY
World Champion Strain Originated in Russia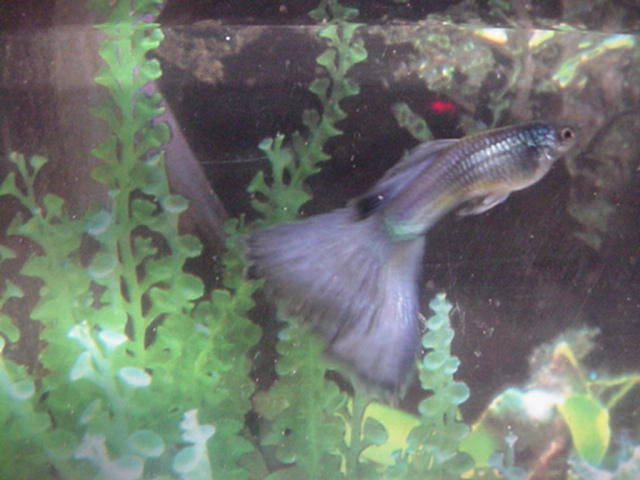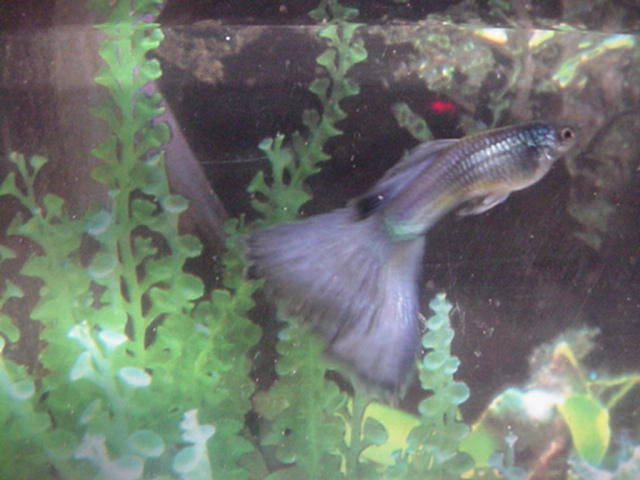 This strain comes in at least three color varieties, namely: blue, purple and green. They are characterised by 100% body color which matches the caudal and dorsal fins. These are 100% solid colored guppies. The finnage is superb as well, with super wide caudals and dorsals. Some are perfect deltas. The body color is so intense in the males that the color sometimes goes very dark. They were the 1998 WGC World champions. Call for availibility.