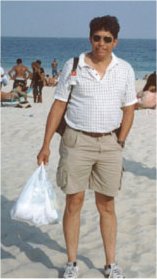 I'm Luke Roebuck, I'm a native of Trinidad and Tobago. Which is in the
South Caribean. I lived there all my pre adult life before moving to the
states. I have been raising fancy guppies for over 40 years, and showing
IFGA quality fancy guppies for 10 years now. Back in the early 70's I
raised wild, store bought and imported show-quality ( Wasserman )
guppies. I am currently an active IFGA certified judge. I reside and
maintain my fishroom of over 250 tanks of show quality guppies
( more to come ) in Riverside California. Some of my strains have done
very well at recent IFGA guppy shows.